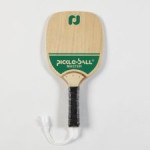 The Diller pickleball paddle is a popular 1G pickleball paddle. When community centres and schools set up pickleball for the first time, they often choose Diller pickleball paddles as their first paddle.
Diller Pickleball Paddle – Upgrade from Swinger
The Diller pickleball paddle is considered by many pickleball players to be an upgrade from the heavier Swinger pickleball paddle. It is about an ounce lighter and has a smaller hitting surface. It also has more attractive cosmetics.
Construction
Diller pickleball paddles are made in Taiwan from seven layers of painted and varnished hardwood. A wooden handle, outfitted with a polyester safety rope is attached to the paddle head using six brass staples. The handle is then wrapped with a thin layer of polyurethane grip.
Durability
Like all wooden paddles, the edges of Diller pickleball paddles will chip over time. This is especially the case when paddles are scraped against the surface of outdoor pickleball courts. Unless it is severe, however, chipping along the edges of the paddle will not generally interfere with the paddle's performance. Many Diller paddles have been in use for many years in community pickleball programs. Therefore the overall durability of this paddle is rated as high.
Diller Pickleball Paddle – Colours
At this time, Diller paddles come in only one colour: a natural wood background with neutral green lettering and graphics.
Diller Pickleball Paddle Sets
Open up the price menu below to see discount pricing on bulk orders. Diller pickleball sets also come with reduced shipping costs to save you even more money. Please contact us at 403-238-0687 if you have any questions or if you would like to place an exceptionally large order.
Features of Diller Pickleball Paddles
Weight: 10.5 oz/300g
approximately 1 oz/30g lighter than the Swinger paddle
safety rope is attached
outfitted with a standard PU grip
a good choice for recreational programs
Disclaimer
Due to the large number of state, provincial and national pickleball associations now operating world wide, Racquet Network no longer tracks which paddles are considered "legal" and which are considered "illegal" under their various and constantly changing rules. If this issue is important to you, please contact these organizations before making your purchasing decisions. Racquet Network does not issue refunds for paddles on the basis of their acceptance or lack thereof by any local, state, provincial or national pickleball organization.

90 DAY WARRANTY
All Pickle-Ball Inc. products shipped within Canada by Racquet Network are covered by a 90 day warranty against manufacturer's defects. In the unlikely event that there are problems with your pickleball paddle, simply return it to our store for immediate replacement. No need to ship across international boundaries. We will ship you a new one as soon as our staff confirm that the cause of the problem is a defect. Please note: warranty does not cover customers outside of Canada. US customers will return defective paddles directly to the manufacturer.
HOW TO ORDER Diller Pickleball Paddles
Order directly from our website by selecting your product and clicking ADD TO CART below. Order by telephone during regular business hours (Mountain Time). In Calgary, please call 403-238-0687. Long distance, please call 1-888-505-5295. Community centres, schools and other institutional buyers in Canada may also set up accounts and order via purchase orders or invoices. Club reps and teaching pros may order bundles of ten paddles to resell locally.
Racquet Network members save even more by reporting scores and earning Pro Shop Credits. Join us today and start saving on brand name products purchased from our website or retail store in SW Calgary.

Clubs and teaching pros who are actively engaged in Racquet Network's social and competitive ladder systems are eligible for unadvertised discounts. Please contact Racquet Network directly for more information.